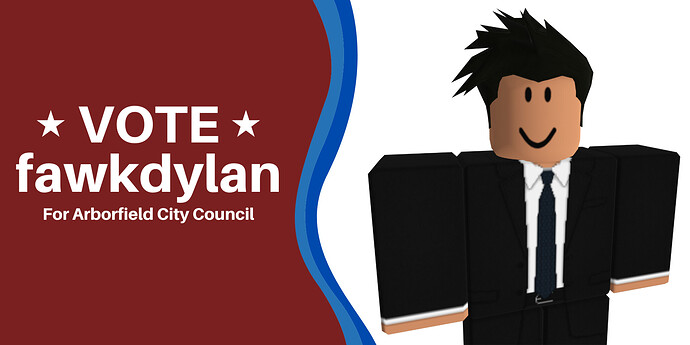 Vote fawkdylan for Arborfield City Council
About Me
Hello, my fellow residents of the City of Arborfield! My name is fawkdylan and I am running for Arborfield City Council. Some of you may know me from my business, Emdy Coffee, and from the work I've done with the Mayor and the Deputy Mayor such as the business fair I co-hosted. This will be my first position in public office within the state and I am very excited about starting my career in politics. I have been a citizen of Firestone for a little over 4 years and a loyal resident and business owner within Arborfield for almost 5 months. I started out in the state as a criminal 4 years ago with aspirations of going legal one day. I finally went legal in November of 2021 and joined the Department of Public Works shortly after. I have been a dedicated public service employee ever since.
My Experience
Throughout my 4 years within the state, I have gained lots of experience in many different fields including public service, law enforcement, business operations, teaching, medicine, and now politics.
Current DPW Supervisor

Former Public Relations Employee
Current Community Service Officer
Current Admissions Officer
Current Senior Instructor

Former DOBW Watercraft Technician
Current DOCM Inspections Officer
Current DOC Corrections Officer

Current Probationary Instructor

Current POST Junior Instructor
Current FFA Cadet (EMT-B Path)
POST Certified
CFL Holder
Current Vice President of External Affairs of Smootheory
Current Co-Founder and Owner of Emdy Coffee
My Plans
During my term, I have a few basic plans to ensure the success of the city and its residents and businesses.
Receive feedback from and listen to the public to hear what needs to be done in the city
Work with my colleagues on legislation to keep Arborfield a great city and compromise if need be
Work with businesses and help businesses grow by encouraging residents to support our city's local businesses
Work with the executive branch and public outreach in order to host events that would grow the city and its businesses
Remain as an active member of the city council
In Conclusion
Thank you for reading this and please consider supporting me. If you have any questions, comments, or concerns relating to my campaign or any of my plans, please don't hesitate to contact me or reply to this post. My Discord is dylan <3#2177.
Best of luck to all of my opponents and remember to vote for fawkdylan!
Sincerely,