Hey there, I don't really post often but this one got my attention being I worked alongside with TheMatthew_RBLX for a couple of things.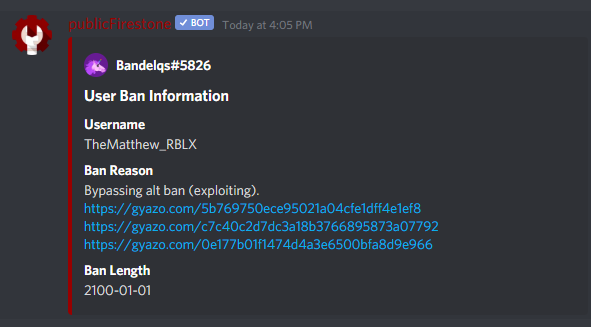 TheMatthew_RBLX was banned earlier by @anon54114525 while in the process of getting his POST certification unrevoked (https://trello.com/b/fRHr1PzV/brec) for "Bypassing alt ban (exploiting)." I don't think this was out of random and was targeted by a member of the Criminal Rehabilitation program specifically reaching GetEnveloped's attention.
The alleged alt was FIRESTONECRIMELORD (https://www.roblox.com/users/1419901384/profile) with a ban reason for exploiting. The ban itself just shows how game moderation is lacking… Clearly no exploit was shown and was flung by the stuck dumpster. Obviously, if you know Matt, he knows a large amount of the community and exaggerates a lot of stuff. He's been working his way up for months now to get back to a Law Enforcement Agency. The only proof that was there was this, https://gyazo.com/d2bc998b97c2784c39fb2671a59df999. A clear video of FIRESTONECRIMELORD getting flung by the stuck dumpster in the bus stop in the busy server. I think you can obviously see how bad that ban is…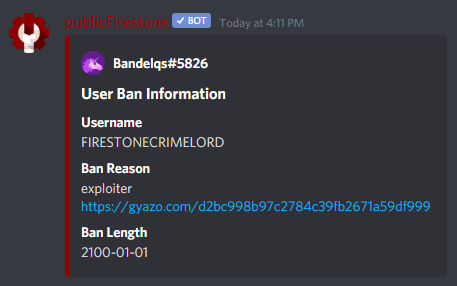 Overall, I don't think this ban is reasonable and was highly targeted by a member of the Criminal Rehabilation program. I ask that you throughly look through the ban reasoning and review what happened. With a lot of power, you can pretty much do anything you want to favor your way.
What do you think? Does TheMatthew_RBLX deserve the ban realistically speaking?