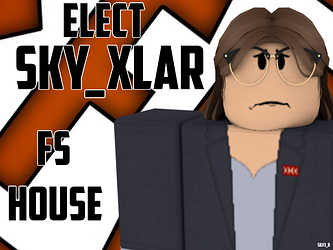 Sky_xlar for Firestone House of Representatives!
Hello everyone!
I am Sky_xlar, and I am putting my name in the ballot to become a Representative in the House. I have been in the State of Firestone for a while now, and I wish to start my career representing the people. Within my time on ROBLOX, I have gotten into politics in a few groups. I was a Senator in HUSA for two terms, and Deputy Judge Advocate General in United States Military 1960s.
I have simple plans I wish to execute if elected into the House of Representatives. These plans include:
Communicating with the citizens of the State in order to get necessary legislation drafted and onto the floor.

Working with my colleagues in both chambers to help draft legislation, and assist them in any way they need.

Create a new direct line of communication between the Legislative Branch and the Executive Branch, to hear about anything they may need from Congress.

Vote on legislation based on the opinions of the people.

Attempt to give the House of Representatives a better outlook with the citizens.
I hope you are able to cast your vote for me in this election, if you have any questions or concerns do not hesitate to reach out! (Skylarr#6091)
Signed,
Sky_xlar