couldnt really think of a title, anyway
Hobo_Bear sought for and supported my expulsion for simply knowing about the Aigio incident (disregarding the fact I had reported this incident and co-operated with agents of the Criminal Investigation Service). Setting aside that it's obvious that this expulsion was a plan to
He, however, lied to the public about the fact he knew of this incident, and further than that, was in the group-chat to discuss the cover-up. He lied to the public during the election and sought an expulsion for things that he was involved in further than I was (my involvement being very limited regardless).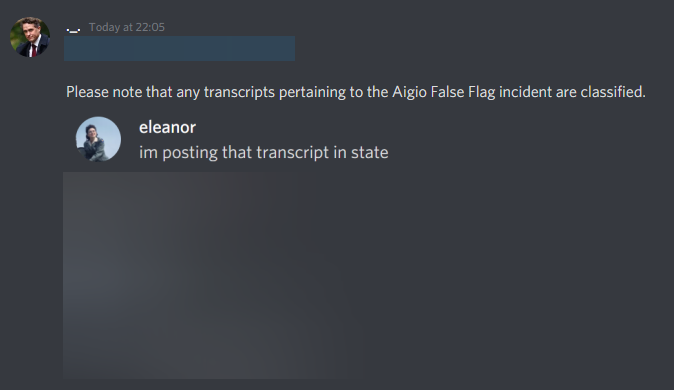 I was also instructed not to release this information. I see this as objectively wrong to selectively release the names of individuals in this matter. Hobo_Bear was involved, and the public weren't told that, the Senate weren't told that.
I am calling on Governor @DyingSym to release the full transcript without classification or redaction (except for where appropriate to defend state security). I am also calling on L_3ee and Hobo_Bear to submit their resignations immediately, and would naturally expect DiazEdmundo to do the same.