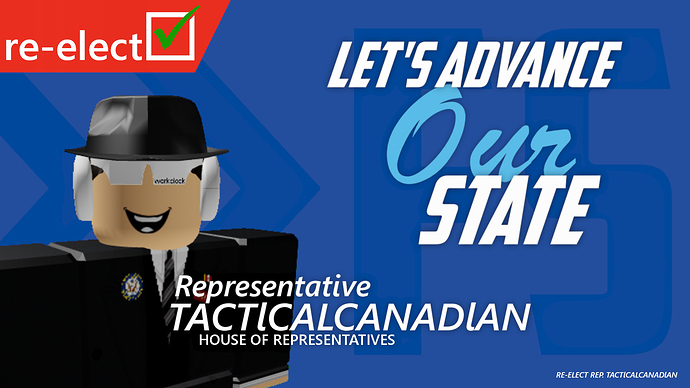 ---
Hello Firestone Citizens!
It's that time once again for House elections, this time I hereby announce I'm running for a second term!
I had a successful term as Representative and unexpectedly took the steps and rose to Speaker of the House. As Speaker of the House, I ensured that the house never stalled, while facing the troubles of finding a suitable time to get enough Representatives online due to the vast separation in time zones, I didn't let that stop us from conducting our duties as a chamber of the Firestone Congress.
Enough about Speaker, that's for a later date, right now is time to focus on being re-elected by you, the people. While this term since I had to take up the role of the Speaker, I didn't find enough time to get to the bills I wanted to get to creating. This term I will do what I can as a Representative to introduce legislation listed below that I feel, and from suggestions from the citizens, suit the state's needs.
Some of my ideas for this upcoming term are,
Complete and submit to the docket my 'The Public Safety Operational Act', redefining, switching around, closing loopholes and other edits to the Public Safety Establishment Act.
Create and introduce a Bill of Rights amendment to protect someone when wishing to submit an anonymous report.
Introduce the 'Offences Relating to Peace Officer Act' which will introduce laws surrounding crimes such as, 'Obstruction of a Peace Officer' and 'Obstructing a lawful arrest'. I plan to also add more to this specific piece of legislation.
Some bills I am considering and researching,
Firestone Evidence Act, inspired by the real-life Canadian Evidence Act - (R.S.C., 1985, c. C-5).
Police Services Act, inspired by Ontario's Police Services Act - (R.S.O. 1990, c. P.15)
And last but not least, I'm interested in working on a Firestone Criminal Code.
If you'd like to see any progress, past progress or any extra ideas I incorporate in the future, my private Trello is public view: (https://trello.com/b/vkyf46bN/fs-representative-tactlcalcanadlan)
For those of you who are interested in my basic plans for if I get re-elected Speaker, they consist of increasing the House chamber ethics and standards, creating a more professional environment in the chamber but not at the expense of fun. While the Speaker role is brand new to me, as with any job, you never stop learning.
Thank you for taking the time to read my speech and plans, I cannot do it without YOUR SUPPORT.
If you want to private message me you can reach me at, TACTlCALCANADlAN#7683.
---
Let's get this bread for a second term!
Thank you!