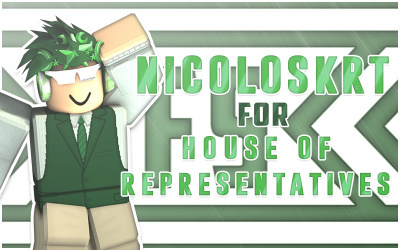 Hello Citizens of Firestone.
I am officially announcing my candidacy for the House of Representatives.
Some of you may be familiar with me but i'll just introduce myself for the sake of making this speech look a lot more in depth than it is.
I am NicoloSkrt,
a 5 Term Representative,
2 Term Speaker
and 1 Term Senator.
Current Vice Commandant of the Firestone Coast Guard.
I've taken a break from politics for quite some time and in my old days I've been the key factor to the passing of important legislation and policies you may have reaped the rewards from to this day. I am choosing to run because from my time as a civilian and a voluntary LEO in the Coast Guard i've seen many laws get abused and innocent people who just had a human error get their certifications revoked and fired for something so minuscule but taken to the farthest extremes.
I'm going to be realistic with you, if elected I can't rewrite the whole constitution in the time amounted to me before the next election. But I will put my best foot forward and focus on the laws that matter and work with the fellow representatives to make sure the voices of my constituents that put me there are represented to the greatest extent.
**Thank you for your time, if you have any questions feel free to dm me anytime, or hell put your question in the comments, free country and all. **
TannerSkrt#8608