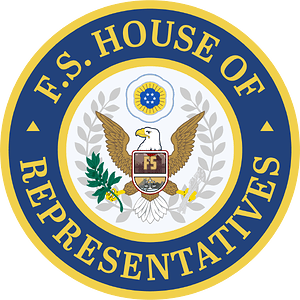 ---
House of Representatives
"Bi"-Weekly Newsletter (#006)
---
Newsletter Information
The Speaker of the House and Speaker Pro Tempore have decided to continue the tradition established by the former Speaker with the continuation of a House of Representatives newsletter. This newsletter is intended to keep the public informed of on-going House of Representatives operations. This newsletter shall detail any sessions, events, and etc which may have taken place over the course of the past month.
In-Game Session
Speaker of the House CanadlanLaw hosted the second session of the term in the Capitol game. The session, was attended by citizens, State Officials, and more. The decision to focus on in-game sessions versus discord sessions by CanadlanLaw has been to promote activity and demonstrate transparency, two of the most important qualities of a functional house. The Speaker believes that the House currently embodies these traits. Read the bulletin here: HOUSE SESSION BULLETIN _ 09.05.2023 (1).pdf - Google Drive
Meet the Representatives Event
On September 10th, CanadlanLaw hosted a House of Representatives: Meet the Representatives event in Stapleton County. Another step in a move to publicize Congress in hopes of making it a more direct and transparent process.
Department of Corrections Tour
On September 22nd, Speaker Pro Tempore kyhuls organized a tour with the Department of Corrections. At this tour, Representatives and their staff could learn more about the Department of Corrections and their facilities. Additionally, the House was able to meet with the Warden. Learn more about this in kyhuls's release: SPT PRESS RELEASE #03.pdf - Google Drive
Signed,
/s/ CanadlanLaw
Speaker of the House
/s/ kyhuls
Speaker Pro Tempore