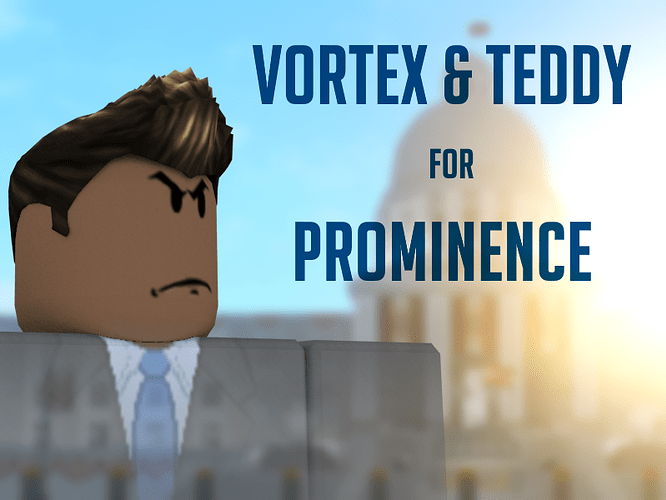 I. Candidate Information
iiVortex_RBLX, Mayor Candidate:
Hello, I am iiVortex_RBLX, the Mayor Candidate for Mayor of Prominence and the former Mayor for over a year consecutively. I've maintained a long career in Firestone for several years, ranging from Clerk in the City of Redwood to the Governor's Office. Throughout my year of service within the District of Prominence as its Mayor and Deputy Mayor, our administration reinvigorated the district with activity, events, cooperation with businesses, among many other things which will be listed later on. Having led several successful terms as Mayor of this district, I am more than capable of leading another very successful one by taking what I already created and expanding it, including the Prominence Library which has been stagnant the past several terms.
Experience:
Lieutenant Governor of Firestone
County Executive
County Chairman
County Chief of Staff
Mayor of Prominence (4 terms)
Speaker pro tempore
Senator
Representative
Among several others.
hxppyteddyy, Deputy Mayor Candidate:
Hi, I'm hxppyteddyy, Deputy Mayor Candidate for Prominence. I have dedicated my career in Firestone to public office for the past four years. I started as a paramedic in the Stapleton County Fire Department, and later the Stapleton County Sheriff's Office. I was elected to the Stapleton County Council, and later became a District Court Judge. After my time on the court, I joined the Firestone Bureau of Investigation, where I would become the head of the Criminal Investigation Service. In January of 2022, I became the Secretary of Public Safety, where I improved transparency and the affairs of the department. I worked hard to repair the image of the department and cultivate impartiality. I then later became Governor and Senator more recently. I plan to bring this same level of commitment to the District of Prominence. I have worked closely alongside iiVortex_RBLX for a few years, and believe our administration in Prominence would bring this district back to a state of activity and prosperity. If we are elected, I pledge our administration will bring devotion to Prominence.
Experience:
Governor of Firestone
Secretary of the Department of Public Safety
Supervisory Special Agent of the Firestone Bureau of Investigation
Senator
etc.
II. Plans
Expansion of the Prominence Library. As previously mentioned, the Prominence Library has stagnated throughout the past several months. During my term as Mayor, the Prominence Library was just starting up. It released several newsletters and hired staff members to get it growing. If elected, we plan to pursue this and allow the library to grow, allowing more employment opportunities in the district and allowing people interested in government to have an easy starting place.
Business relationships. Throughout my several terms as Mayor in the past, Prominence kept a close relationship with businesses. We hope to be able to establish a formal organization to upkeep business relationships in the District, however, I do intend on rebuilding the same personal relationships with the businesses in Prominence we once had.
Activity and Events. If elected, our primary goal will be creating an active government that interacts with the citizens of the district. We plan to hold a number of events for the district and maintain a government that is involved with the public.
Overall we plan to build on what already exists and what we've already created in my prior terms. We created a district with a competent government, organized archives section, and strong relationships with the public.
III. Conclusion
Hxppyteddyy and I are truly committed to bettering the District of Prominence. We are both very experienced leaders in Firestone and very experienced in the district itself. We would like to build on the progress made in my prior time as Mayor and build a great district once more. Thank you, we hope to have your support!
Thank you,
iiVortex_RBLX Mayor Candidate
vortex#9683
hxppyteddy, Deputy Mayor Candidate
teddy#1011