Iconic Press Release Week of 2/27/22 to 3/05/22
Main Announcements
Iconic receives Gubernatorial Merit Award from Governor DyingSym. Thank you!
Recently, Iconic has faced a large number of impersonators. More information on how to spot them is in this Press Release.
With an increase in employees, Iconic now has a Team 4. Congratulations to Maxofamillion2 on being the new Team Leader!
Iconic Director, Bearzno, receives a job at the Department of Public Works.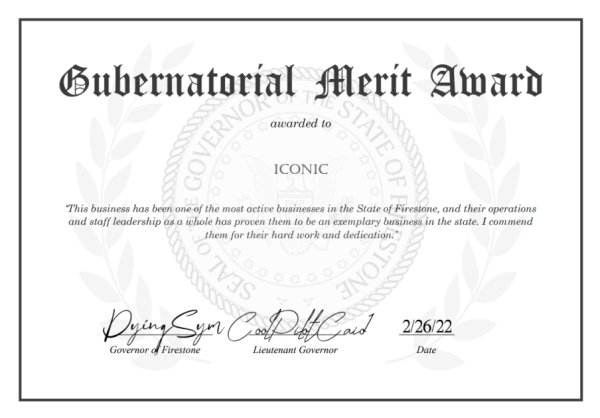 Iconic Impersonators
Due to the rising amount of Iconic Impersonators, we have decided to explain how to spot if they are an Employee or not.
All employees would be showing their names and be on the Iconic Employee Trello.
If the answer is "Yes", then please send proof to bear#6199 so they can receive a Iconic Blacklist and potential Department of Commerce Blacklist. Following that, please ask an LEO to have them arrested.
Thank you for helping us get rid of Iconic Impersonators!
Maxofamillion2, Public Relations