hi welcome to another shitty gate post (not)
remember me? yeah im still in this community somehow lol!
oh yeah im not formatting this nice im lazy and that level of effort is reserved for my real job.
Ok anyways here's the deal:
You may have heard about an incident where someone in SCSO got arrested for pointing a gun at someone in PDP, and someone in PDP also got in trouble for it. The whole thing then got sent to DPS so they could take a look at it and do whatever.
FNN has decided that this is a coverup by the district, something is happening and its everyones fault, literally making things up to try to make this into a story about police corruption.
Earlier tonight, I got a message that the district of prominence got a FOIA request - all fine, they sent the person my way and I read over the request.
Here's a few photos of them just so you can see what I got.

I read over these, realized what he wanted and talked with the people in the district this was relevant to. I got a copy of every single message sent that mentioned FNN in the Prominence Police discord, along with the trello board that contained all the records asked for. I sent that over in a response really quick.
What was not provided was a log of all the communication between the mayor and related to the investigation. This is legal for a few reasons - the communications were between an attorney and client, privileged and exempt from the freedom of information act. Please note there's an actual reason not to release these and its more than just "because we don't have to" the conversations relate to internal procedures and an ongoing investigation, of which sharing the info would absolutley cause significant harm to the public interest. Also, the procedures relating to training and applicants, as it would undermine all of the training and examination done to PDP officers, which as I am told is extensive and involves some unique training practices.
I'm not a specific expert on how PDP works, I talked around and asked more than just the chief who was my main point of contact. This is how I was told it works from all angles.
Anyways, here's my response so you can see i'm not bullshitting and this is literally what I told them.

After that, we talked back and forth and everything seemed reasonable. They asked me why specific info wasn't provided and I elaborated as best as I could.
Everything seemed normal, and then I get several dms saying this person had gone around accusing us of the following:

Wow! That's wild, go right over our heads and accuse us of this. I can understand investigative journalism requiring some level of maneuvering but this just seems disingenuous. I explained the situation to the county executive in some detail and he understood what was going on.
At this point, I'm relatively pissed. This guy had gone to everyone he could find and accused me of something that's literally not true, along with trying to drag me around through the mud.


Literally this guy saying that we're planning to go and ban reporters (which even if we could technically do this, we wouldn't, and we haven't.)
So, i'm even more pissed. I dm the guy back to ask wtf is going on - why he would try to fuck me over like this:

Obviously I threaten with some action (because im a lawyer of course we do that) but still. I was polite to you beforehand and now you come out trying to say I (or we) are silencing you, censoring you whatever.
(Just as a note, obviously we're fine with press being that this guy is in the PDP discord and I freely responded to his FOIA request to the best of my ability) I literally tell him investigative journalism is fine but he needs to use some level of ethical practice instead of lying to try to make a story.
The rest of the conversation I didn't show is pretty boring, it basically devolved into me telling him something and him asking a followup, which is fine - I was an asshole to him, he was an asshole to me that's not my complaint here.
My only issue is that FNN is quite literally slandering a department and myself for the sole reason of trying to be relevant. As a note, he signs all of his FOIA requests as "private citizen" but uses an FNN letterhead. His messages also tell a different story: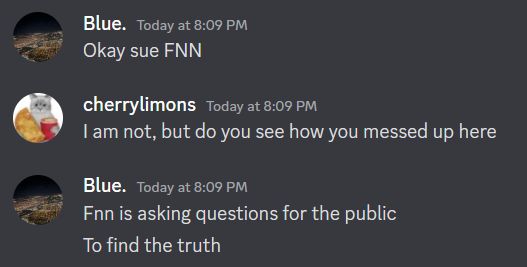 Obviously I'm not gonna sue a news agency over silly shit, but really?
You outright slander me, threaten to publish articles relating to a coverup (which didn't happen, the entire incident received a press release and was sent to dps for indepedent review, link: https://drive.google.com/file/d/10njKQjZaQ2umVN2ShYonWfJbDLkhdfTL/view?usp=sharing)
Now why did I make this post? Because I guarantee you if I don't there's gonna be another "promgate!!!" and before anyone can say anything people are going wild.
This whole situation is stupid, and I'm getting out ahead to provide the public some truth.
I like FNN, and I really hope they're able to amicably deal with this since I don't want to damage their relationship with the district or anyone. I also hope the reporter here provides some of his own context to show his side of the story.
I was an asshole yes, but I was a truthful asshole - and I'm not about to let someone walk all over me and people I work with because they want clout.
tl;dr:
Reporter asks me for some info, I provide some of it and dont provide other stuff because of legal reasons. After that he goes around saying me/the people I work for silenced him/them as journalists and accuse us of covering up and instance of misconduct. I'm sad. fnn pls fix.