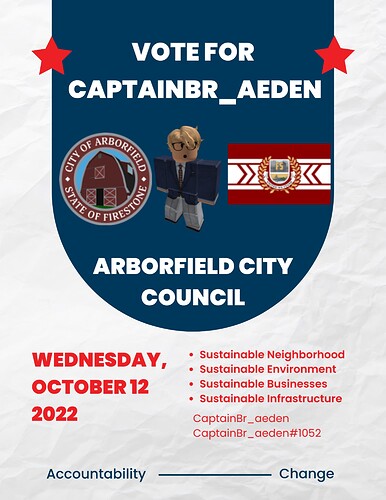 INTRODUCTION
To the Reputable citizens of the State of Firestone;
As a resident, I want what's best for Firestone because I want to see us develop and thrive. The essential thing is that we need someone who will show courage and leadership to rise beyond petty political fighting and put Firestone in a position to assume the role of the emerging star State that it is. I've spent a lot of time in this state, exploring its diverse districts and conversing with its residents. I'm sure many of you share my belief that there is untapped potential beneath our feet. It's a promise that can only be realized under the direction of devoted leadership and imaginative skill.
Yes, I may be new to Firestone politics, but I am certainly not new to politics in general. I want to gain experience from the bottom and work my way up so that whatever position I run for next I will have to correct experience and knowledge to be aware of what the responsibilities would come with it.
ABOUT ME
I have been with Firestone for a little over a year now. I first joined in August 2021, and have been involving myself as much as I can ever since. I have been a civilian for a while as I couldn't fully dedicate time and effort into careers, but now that I am putting a full mindset towards Firestone I believe that now is the time to really get jumpstarted into the career part.
✯ Current DOBW Watercraft Technician
✯ DOT Intern
GOALS AND PLANS
➱ Establish connections and detect regulatory issues that will help with business development and retention efforts.
➱ Incorporate a sustainable neighborhood, whereas to ensure Arborfield is kept safe and secure from threats and dangerous acts.
➱ Preserving and improving the Arborfield environment, such as adding a community park, bike trail, etc to make Arborfield a more eco-friendly and welcoming town.
FINAL STATEMENT
I wish to really help the city of Arborfield by being a part of the City Council. I believe that with my real-life experiences and knowledge, I can effectively utilize them here for the advancement of Arborfield. I do pretentiously thank you for reading through my campaign statement, and I wish the best of luck to my fellow competitors.
Signed,
CaptainBr_aeden
Discord: CaptainBr_aeden#1052