The State of Atoll has shown very little progression ever since it became 'active' - the Governor of Atoll is merely competent however largely corrupt.
Multiple sources claim he is going 'full Stalin mode' by removing cabinet members such as his Secretary of State (DiazEdmundo) due to him endorsing the Governor's widely supported recall. He also stated previously that he wanted to abolish the senate (not very democracy like)
Governor EnglishApache also began to work with a member of a known terrorist organisation (AIS) within Atoll to alter the recall as it began to get major support from the citizens of Atoll.

In addition the Governor's recall was successful submitted and contained more signatures than required in accordance of Atoll's constitution.
However the general management failed to abide by the constitution and decided to deny the recall.
After the recall was denied Governor EnglishApache proceeded to make plans to deport the organiser of the recall and began to ask the Atoll State Police to launch a investigation for 'conducting a unlawful recall'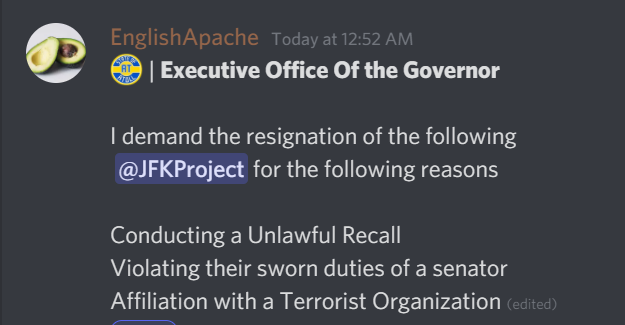 [EDITED - HAD AN ADDITIONAL NAME IN THE STATEMENT]
I urge the State of Firestone to rethink their relation with Atoll.