Won't let me buy jetski, i have enough money
This happens for all boats in V2. It's been happening for awhile, and most of my friends are also experiencing issues with buying boats aswell.
what rook said, u also cant refuel
v3 beta*
actual release could still be years away (not saying it will be, it could be)
i dont thnk v3 will have boats if we are getting ride of dobw
Seems like a you problem ngl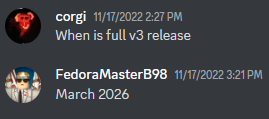 april 1st, mark my words.