The Manslaughter Case
---
Introduction:
There was a incident that took in which a very special Associate Director claimed that there was a escort and decided to kill a innocent unarmed civilian. In reality, they would check if the person is any harm before shooting, although this user took it upon himself to just shoot instantly without no warning or anything.
---
Full Explanation:
Was normally driving in the Great County of Stapleton, and while I was driving I found the limo just sitting there, I parked in the FSP where it was parked also as it was empty and there was no "escort"/protection even near the limo. I see Associate Director Kale566 get in the limo and drive. I then proceeded to leave and drive by the law as I saw the limo speeding. And while I was at the Arborfield Hospital. The limo decided to take a illegal uturn on the same road and forcefully making me hit the car. I then stopped because if I ran it would cause it to be hit and run. And while I stopped I saw the officer starting randomly to shoot at me and I didn't move or hesitate as it will also still count as hit and run. The officer never checked if I had weapons or told me any instructions. He instantly went on attack mode for no reason.
---
Screenshot evidence:
Those are full screenshot evidence showing the actions being taken place.

(Don't see how it's maneuver to do a U-Turn into a car which can harm the VIP person)
Also furthermore evidence admitting to killing me :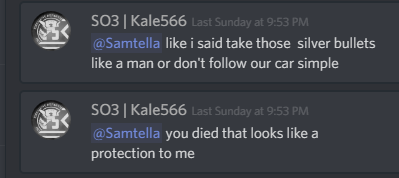 (Him refering it to a escort)
Now Firestone doesn't actually define what a Escort is, so therefore let's go by the literal definition provided:


Now a user alone doesn't seem like a escort to me, as he was the only person there. Also in a standpoint given, he needs to again, check if the person is armed before actually using lethal force.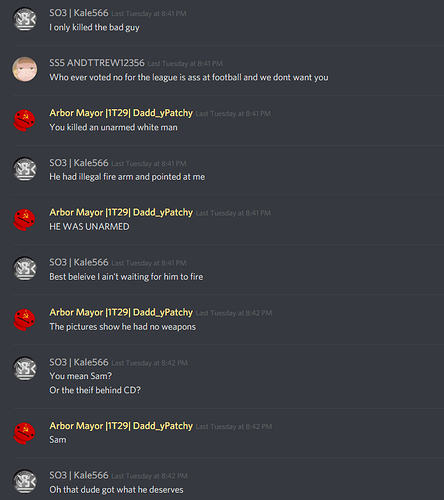 As you can see from the screenshots from the start, I didn't not have any weapons at all. Never did he even ask me to get out of the car or anything. He just started using lethal force instantly.
Court justice:
I proposed my case to a local attorney of mine and the Department of Justice stated they denied the case due to there being no evidence of him killing me even tho he confessed multiple times??