Summary
Hxppyteddyy and Ash1835 elected to the office of Governor and Lieutenant Governor.
Speeches were mostly satisfactory; providing information about the candidates and their plans.
Three sets of candidates ran for office, although developer intervention restricted further participation before campaigning was officially meant to close.
Voter participation was 522 (a decrease of 223 from the last election).
Speeches
Hxppytedyy and Ash1835: structured well, very detailed information about candidates, but vague in its plans (a list of branches and sectors they will help).
BendDerOver and TristonL12345: structured well, absence of relevant experience from either candidate, and a long set of detailed plans (New York relations, expungement relief, etc.)
Palmurst and Sharkfish82: structured well, high amounts of experience listed, and a long list of semi-vague plans ("support" is a word mentioned a lot).
Voter participation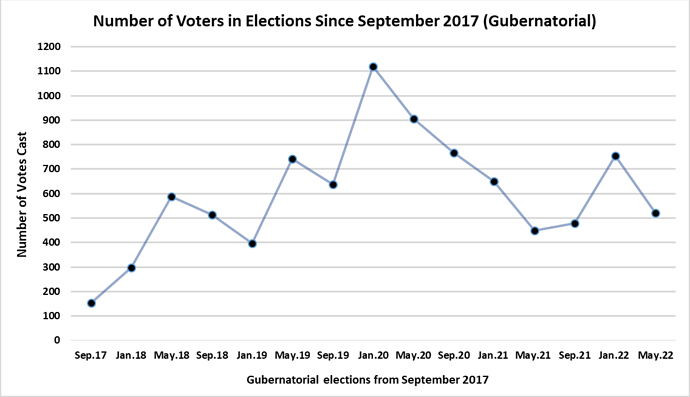 With 522 voters, participation since the last election has decreased by 223 which is a worrying sign, especially when gubernatorial elections attract the most attention. This number cannot be attributed to a lack of exposure, but perhaps an increasing apathy for politics within Firestone.
Recommendations
Investigate the causes of decreasing voter participation, perhaps looking at concurrent player counts and general interest in the state.
Promote further interest in the elections through the private sector and media outlets.
Discord: The Firestone Democracy Project