This morning, it has come to my attention that an employee within the Firestone State Patrol is in fact the alternate account of a former terrorist (now banned from Firestone). Earlier today, it was brought to the attention of myself and other 'investigators' that the fairly well-known Trooper mrallen22, one of the spotlighted individuals in the case against Ethan_playtime v. mrallen22, is the alternate account of xXMOOMLELXx, also known as xXBOSSLELXx. Originally, these accusations were simply speculation based off a few questionable screenshots that were brought forth to the original investigators, upon further investigation, we now have reason to believe that said accusations were true. Investigators not only discovered that mrallen22's YouTube channel has posted videos taken by xXMOOMLELXx, but xXMOOMLELXx also admitted to owning the account mrallen22. We now have reason to believe that when mrallen22 arrested Ethan_playtime, personal factors and previous encounters involving Ethan_playtime and xXMOOMLELXx came into play, and mrallen22 made the arrest as a form of revenge. I strongly encourage the Firestone Department of Justice to take a closer look into the arrest and its evidence in hopes of clearing the name of Ethan_playtime. I also encourage the Firestone State Patrol to remove this individual from their department before any harm can be brought to the county. I conclude with many thanks to the investigators in one of my personal group chats for taking the time to conduct said investigation and root out evil from our great state. Despite being a batch of complete retards who like using the N word, your work is greatly appreciated. Down below, the evidence has been provided.
---
xXMOOMLELXx admitting to owning the account of mrallen22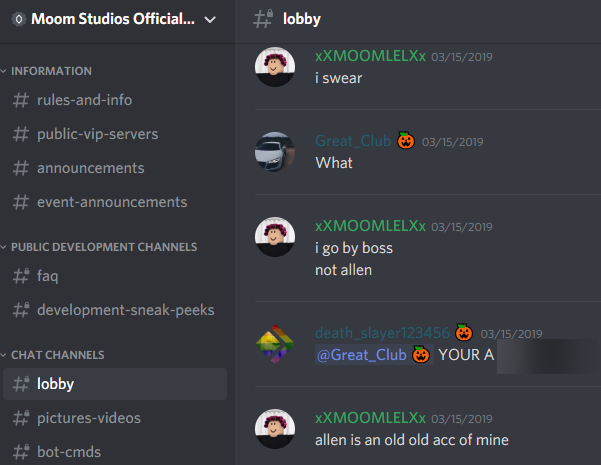 Videos taken by xXMOOMLELXx/xXBOSSLELXx posted on mrallen22's YouTube channel

Video taken by mrallen22 posted on the same account that houses videos taken by xXMOOMLELXx/xXBOSSLELXx, & mrallen22's YouTube channel

https://www.youtube.com/channel/UCtbKamemUJgSBAzhSFClKow
Profile Links
mrallen22: https://www.roblox.com/users/63079005/profile
https://www.roblox.com/users/159466186/profile
xXMOOMLELXx's ban


---
If you need any more evidence, let me know and I'll gladly provide.
Signed,
CanineEnforcement
Registered Ghillie Sniper