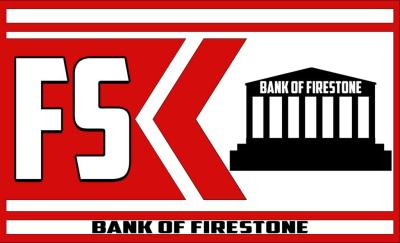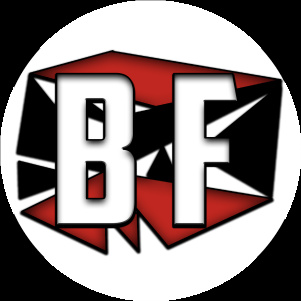 The Bank of Firestone. What the hell is that?
We're a month old business that is currently the most active business in Commerce, we're a business that hands out loans, roleplays withdraws and deposits. I founded this business with @DannyboyJurist
Do you have an application or a discord?
Yes, we do. We got Security and clerks. Which is listed here.
Are we Commerce approved? And what land do you own?
Yes, we are. Here is it.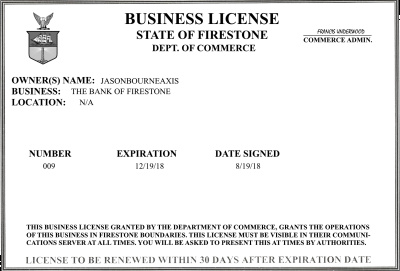 Certification ID: 009
Business: THE BANK OF FIRESTONE
Owner: JASONBOURNEAXIS
Expiration: 12/19/18 (MM/DD/YY)
Date Granted: 8/19/18 (MM/DD/YY)
This is the land we own.
Bank 1: Near 98th Avenue & Redwood Boulevard, City of Redwood. In-game Image: https://prnt.sc/kkk4ey Map Location: http://prntscr.com/kksv09
Where is proof that you own the land and business?
Here https://trello.com/c/fU1OVt2h/530-the-bank-of-firestone and https://trello.com/c/shlVstuF/537-98th-ave-redwood-fs
What roles do you have in this Bank?
CEO
President
Vice President
Executive Team
Head of Security
Head of Clerks
Deputy Head of Security
Deputy Head of Clerks
Senior Security
Senior Clerk
Security
Clerk
Trainee
Customer
CEO is me
President is @ sharkfish82
Vice President is @CelinexDev
Executive Team is @XtremeSkilZz979
@anon89270917
@MrEmote
@MisterGermanAidan
Head of Security is @ Josh_Lovelace
Head of Clerks is @ Uncircuit
Deputies are VACANT
What is your budget and what type of loans do you get?
Our budget is 9k fs cash. The maximum is 1k fs cash because of the budget.
https://docs.google.com/document/d/1w0r82HcTqUc_MKhBsgyrSNZ0PgXc-uk4Lp2VfQZ9XM4/edit is loan information.
Please note that we do contracts when getting a job or doing a loan so you don't leak classified stuff that is only for staff only, or that you don't pay us back you will go to civil court.
What do you guys do when you are robbed?
We have Security for a reason. They will attempt to murder the suspect if he shoots anyone or whatever he does. They will also contact the cops.
Could I join this business?
Sure you can!
Permanent Bank of Firestone Discord Invite: https://discord.gg/F2m5f2p
Bank of Firestone Group URL: https://www.roblox.com/My/Groups.aspx?gid=4347084
We also have two bots.
The Bank of Firestone has 2 operable bots: @publicFirestone - responsible for verification of new users, use the !register <ROBLOX USERNAME HERE> command to verify yourself.
@Bank Bot - responsible for moderation commands and other information regarding the server, use the !cmds command to view all commands.
The @publicFirestone bot is managed by @anon54114525 and should be on most of the day and night
The @Bank Bot is managed by @thekerbal, its downtime is unreliable and may occur at any moment.
Any questions? Ask the people in the discord and they will help! Thanks for reading.
LOGOS MADE BY @ SUPAHSHARP