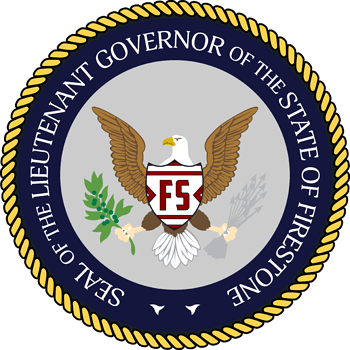 Firestone State Senate Elections of March 2020
The State of Firestone Senate is the upper chamber of the bi-cameral legislature of the State of Firestone. The Firestone Senate is tasked with creating and passing legislation, same as the House of Representatives. The Senate is uniquely tasked with confirming nominees for government positions.
---
The Firestone Senate is a PRIMARY position. You may not, once being elected, hold any primary positions.
---
Positions Available: 3
Required Signatures: 20
Election Sponsor: Lieutenant Governor Hecxtro
---
Election Guidelines
- Candidates must create a speech
- The speech must have been created on the forums after the creation of this post
- Candidates may not slander other candidates (knowingly raising false allegations designed to hurt someone's reputation)
- Candidates may not have any criminal record (no un-expunged arrests or citations)
- Candidates may not maliciously harass anyone for support, though DMing others for support is allowed
---
Election Schedule
Campaigning shall be open until 3/29/21 at 4:45 PM EST
Voting shall open on 3/29/21 at 5:15 PM EST
Voting shall close on 3/30/21 at 5:15 PM EST
Should there be no more than 3 candidates, voting shall not occur and all of those that meet the signature requirement shall be elected into office.
---
Candidates are expected to post their speech after they obtain 20 signatures. Candidates shall not be on the ballot unless they post their speech on this thread.
This election is hosted to implement staggered terms. Zeyahne and JohnDRyans are both up for re-election.
---
Should anyone have any questions, my DMs are always open. Good luck.
/s/ Lieutenant Governor Hecxtro