So on 8/13 FedoraMasterB98 announced: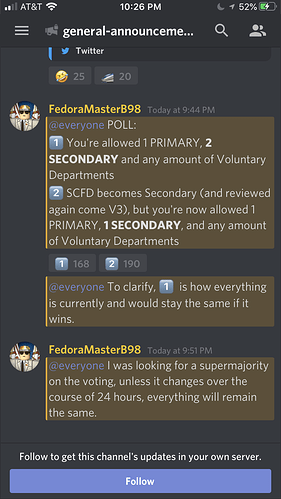 To prevent any bias I will only give some facts on the Pro's and Con's, I'll list my opinion further in the thread.
Pro's:
SCFD becomes secondary
Better response rates from SCFD as it can be more staffed
Con's
Can no longer be in more than one secondary job
Those not seeking a patrol LEO job (DPW, DOT, DOC, etc) will be limited to only selecting one
With this in mind vote here as well. Also make sure to respond below on this issue.
You're allowed 1 PRIMARY, 2 SECONDARY and any amount of Voluntary Departments
SCFD becomes Secondary (and reviewed again come V3), but you're now allowed 1 PRIMARY, 1 SECONDARY, and any amount of Voluntary Departments
Additionally, who would be in favor of you're allowed 1 PRIMARY, 2 SECONDARY and any amount of Voluntary Departments AS WELL AS making SCFD Secondary
Yes, this is a better solution
No, the solutions presented above are better