Before, I just want to clarify which promotions I am talking about. Here is the list -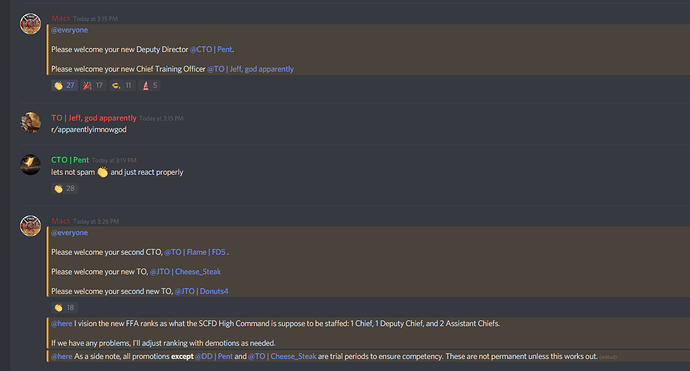 Now I do not have anything to say about the promotions to TO but Pent's promotion is where i see the problem. Jeff has been in FFA for a long time… definitely a lot longer then Pent. I realize that does not mean Jeff is better automatically but in my opinion he is. From what I have seen Pent was not that good at reading and checking through the Applications. There have been a few - many criminals accepted into FFA and not all have them have even been removed when requested [sometimes he does but not always or even most of the time].
Pent also got to CTO before Jeff which i just see as unfair. Jeff had more experience then Pent had. [alot more not a little more]. Unless Jeff has done something wrong or abused in a way in the past that i am not aware of then i do not see why Pent was given the promotion before Jeff.
I want to know if you agree with my points or do not so please vote.
Yes I agree
No I do not agree
I agree with some of the points but not all