Greetings, to those who care enough to hear me out.
THIS PETITION IS TO HAVE MY PRISON SENTENCED OF 15 HOURS WITHIN CORRECTIONAL FACILITY REVOKED / STRIKED DOWN
Here recently, I was sentenced to 15 hours within a Correctional Facility for Interfering with police officer. Now, the Correctional Officer had attempted to guide me arrest a DoT Employee then lied about that under oath within a court room, where he said he told me to let him off with a warning. Then, he attempted to arrest a State Representative for reporting the location of an escapee.
You see, I was called to DoC about a DoT employee that was pulled over off DoC property, for loitering. When I arrived, the Correctional Officer implied that I make an arrest after I asked him what his outcome was. You see, when asked under oath what he said that he stated for me to let him off with a warning, which was his first invalid statement, given under oath. (I let DoT off with a warning).
Now, later on I was conferencing with the CO at DoC when a representative came, attempting to grab the attention of the Correctional Officer to show him where an escapee resided. When the representative did so, the CO attempted to arrest the Rep.
Also note, when multiple people asked for a Supervisor, the CO claimed he requested one under oath, but when you refer back to DoC discord, you see that wasn't the case. Another time the individual lied under oath. He made no attempts to grab a supervisor.
Now, looking back at the court case. While there, I attempted to object several discrepancies that resided within the Prosecutions examination of the witness, xKoytoPenquin. During so, none of my objections were allowed. However, when I went to examine the witness, every objection, even petty ones were allowed and the judge had agreed with the prosecution.
Nevertheless, the Prosecutor even stated that he did not examine the evidence given til during the court case, making baseless claims according to what the witnessed told him.
Pictures and other stuff: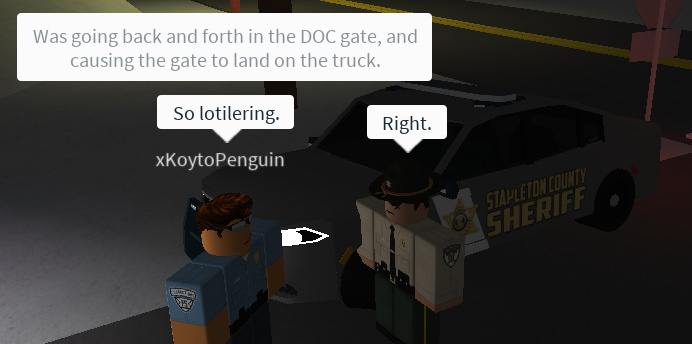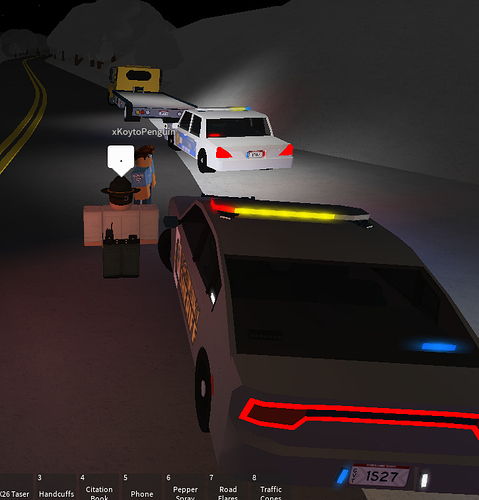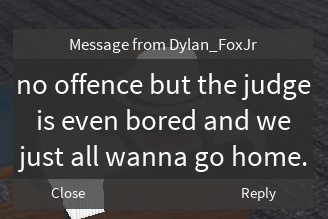 In Regards,
Firestone National Guard: Military Police, Private First Class.
Stapleton County Sheriffs Officer Deputy
SouthernMorality.