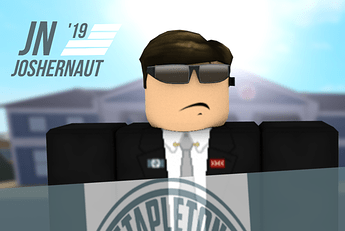 Joshernaut for County Executive
Table of Contents:
Starting Introduction
Plans
Conclusion
Starting Introduction:
Joshernaut: Hello, I am Joshernaut. I have been involved with Firestone for almost a year now, since last February. I am currently Mayor of Prominence, the capital of the State of Firestone. I have had quite a journey in Firestone, starting by getting my POST Cert in July of 2018. I later joined SCSO, and served for 4-5 months. I decided to move my work elsewhere, and I left SCSO and became an Instructor in POST. I spent a good 3 months there, and resigned before reforms began. I joined FSP, served there for a few months, then took a break from ROBLOX for a bit. After rejoining, I joined FSP again, and joined DOC, which I am a Sergeant now, as well as I joined FNG, where I am a Staff Sergeant. I was formerly in the County Council, but resigned to focus more on being a mayor, and my LEO career.
Plans:
I plan on keeping the County government going smooth, I believe under the leadership of current County Executive Madi it has been going well. I will keep a good eye on the County Council to ensure we get things voted on that needs voted on. I will also keep communication between the people and the county government, as I feel that is something it currently lacks. I have no desire to change the current cabinet within the county government, but I do intend to have weekly meetings with the cabinet heads to make sure things are running smoothly and if there is an issue, to tackle it as quickly and successfully as possible.
My goal, as stated before, is to bring a good communication between the citizens and the county government. I will try my best to do polls, announcements, etc. Keeping you informed on what is happening and what you think about it.
Conclusion:
After reading, I hope you are able to choose me as your next County Executive. My agenda is made to be very informative on what my plans are while I am in Office. Make the right choice this upcoming election and vote for the candidate we need!
Discord: Joshernaut#0001
Signed,
Prominence Mayor,
Joshernaut