Here are the current gas prices inside Stapleton County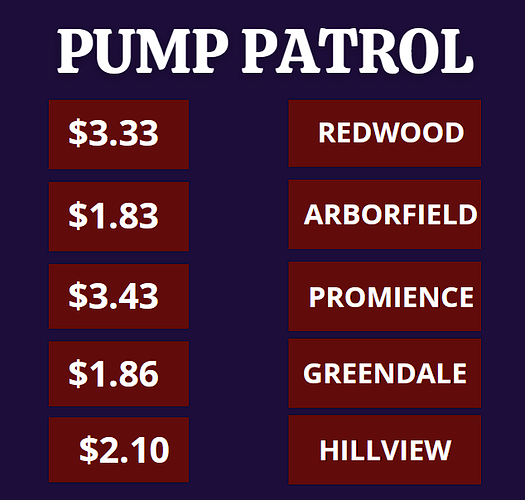 coverage information by The Firestone Patriot
Finally a useful forums post
good gas prices

$3.52 a gallon at Speedway
What about the one by docks?
It bugs me there was no quality control on the graphic design
I love the artistic touch by mocing 2.10 to the side. Great touch.
I will check later sorry I couldn't fit that one on there
Why aren't they all centered? Also gas is free at the gov gas station
Obviously they don't care about it and are new to doing graphic design
That's helpful for government employees on team but not all civilians tho
Would've been useful to civilians 2 weeks ago
Prominence = preeminent petrol!
Gotta love thwt all of the city names are also inconsistent… also wtf is promience…
The lines at Arborfield will be huge and as someone with not good Firestone financial credit, this really helped!